Balsamic Marinated Brussel Sprouts Recipe
Elevate your taste buds with the rich and savory notes of balsamic marinated brussel sprouts. This recipe infuses the natural sweetness of balsamic vinegar with the hearty texture of Brussels sprouts, creating a delectable dish that's perfect for adding a touch of sophistication to your table. Let's discuss the roasted brussel sprouts with balsamic vinegar recipe.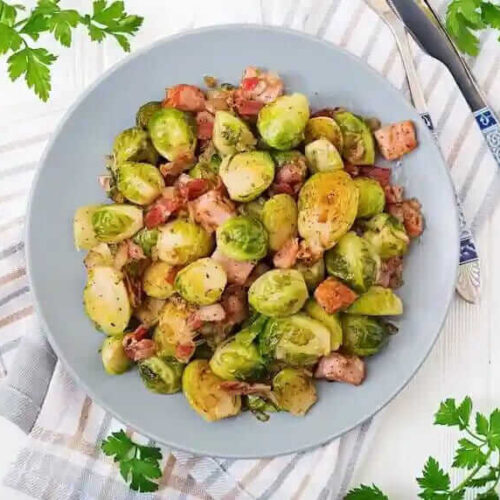 From Oven to Table: Irresistible roasted brussels sprouts balsamic
Taste perfection with our roasted Brussels sprouts balsamic elixir. The balance between the roasted crunchiness and the sweetness of balsamic is a true testament to gourmet delight.
Equipment
Stock Pot

Large Bowl

Knife

Colander
Ingredients
1

Pound

Fresh Brussels sprouts

1/4

Cup

Balsamic Vinegar

3

tbsp

olive oil

2

Cloves

Garlic, minced

1

teaspoon

Dijon mustard

1

teaspoon

Honey or maple syrup

Salt and pepper to taste

Fresh thyme leaves (optional, for garnish)
Instructions
Washing the Brussels Sprouts: Wash the Brussels sprouts thoroughly and trim the stem ends. Remove any damaged outer leaves. If they are larger, cut them in half.

Boil the Brussels Sprouts: Fill a pot with water and bring it to a boil. Add a pinch of salt. Place the Brussels sprouts in the boiling water for 2-3 minutes. Drain and transfer them to a bowl of ice water to cool down. Drain again and pat them dry.

Make the marination mixture: Place the blanched and dried Brussels sprouts in a resealable plastic bag or a container with a lid. Pour the balsamic marinade over them, ensuring they are well coated. Seal the bag or container gently, shake or toss to distribute the marinade evenly.

Marinating time: Refrigerate the marinated Brussels sprouts for at least 2 hours, preferably overnight.

Oven roasted Brussel Sprouts balsamic: You can serve the balsamic glazed brussel sprouts cold as a tangy salad or side dish. Alternatively, you can roast them to enhance the flavors. To roast, preheat the oven to 400°F (200°C). Spread the marinated Brussels sprouts on a baking sheet lined with parchment paper. Roast for about 20-25 minutes until tender and slightly caramelized.

Serve: Once roasted or brought to room temperature, garnish the roasted brussels sprouts balsamic vinegar with fresh thyme leaves for added aroma and visual appeal. Serve as a flavorful and vibrant dish. Enjoy crispy balsamic brussel sprouts balsamic glaze with special sauce!