A quinoa with roasted vegetables Bowl is a hearty and wholesome dish that combines the earthy flavors of roasted vegetables with the nutty goodness of quinoa. This recipe is delicious and packed with nutrition, making it a satisfying and well-rounded meal option.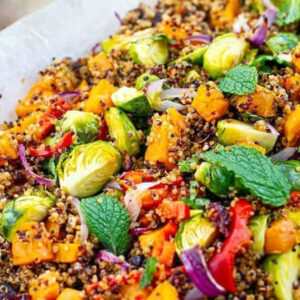 Roasted Vegetable and Quinoa Bowl Recipe
Transport your taste buds to the Mediterranean quinoa salad with roasted vegetables. It's a light and refreshing dish perfect for your dining.
Ingredients
2

cup

Mixed vegetables (e.g., bell peppers, zucchini,carrots, broccoli, and cherry tomatoes)

1

cup

Quinoa

2

cup

Vegetable broth or water

2

tbsp

Olive oil

1

tsp

Dried herbs (such as thyme, rosemary, ororegano)

Salt and pepper to taste

Optional toppings: feta cheese, chopped fresh herbs,or a drizzle of balsamic glaze
Instructions
Preheat the Oven: Preheat your oven to 425°F (220°C).

Prepare Quinoa: In a large saucepan, bring 4 cups of water to a boil. Add the rinsed quinoa, reduce the heat to low, cover, and simmer for about 15-20 minutes or until the quinoa is cooked and the water is absorbed. Remove from heat and fluff with a fork.

Prepare Vegetables: Toss the chopped mixed vegetables with olive oil, dried thyme, salt, and pepper on a baking sheet. Ensure they are evenly coated.

Roast the Vegetables: Place the baking sheet in the preheated oven and roast the vegetables for approximately 20-25 minutes or until they are tender and slightly caramelized. Be sure to stir them once or twice during roasting.

Assemble the Bowls: Divide the cooked quinoa among serving bowls.

Add Roasted Vegetables: Top each quinoa bowl with a generous portion of the roasted vegetables.

Drizzle with Hummus: Drizzle a spoonful of hummus over the quinoa bowl with roasted veggies.

Garnish with Fresh Herbs: Sprinkle chopped parsley over the bowls for freshness and color.

Serve and Enjoy: These Roasted Vegetable and Quinoa Bowls are ready to be served. Enjoy a delicious, healthy meal filled with various flavors and nutrients.
Notes
Tip: To avoid overcooking the quinoa, follow the recommended cooking time and check for doneness. Overcooked quinoa can become mushy and lose its desirable texture.
How Much Roasted Vegetables Per Person?
The amount of roasted vegetables per person can vary depending on individual preferences and whether the bowl is served as a main meal or a side dish. Aim for 1 to 1.5 cups of roasted vegetables per person as a general guideline for a satisfying main course. For a side dish, 1/2 to 1 cup per person should suffice.
What Vegetables Go with Quinoa?
Roasted veggies quinoa bowl, allowing endless creative combinations. Common choices include bell peppers, zucchini, carrots, broccoli, cauliflower, cherry tomatoes, asparagus, and spinach. You can mix and match based on your preferences and what's in season, ensuring a colorful and nutrient-rich roasted vegetable quinoa bowl.
Additionally, roasted vegetables and quinoa bowl add a depth of flavor and texture that complements quinoa perfectly.