Greek yogurt with mixed nuts and a drizzle of honey is a simple yet satisfying breakfast or snack option that combines the creamy tanginess of plain Greek yogurt with the crunch of assorted nuts and the natural sweetness of honey. These Greek yogurt recipes offers a balanced and nutritious way to start your day or curb cravings.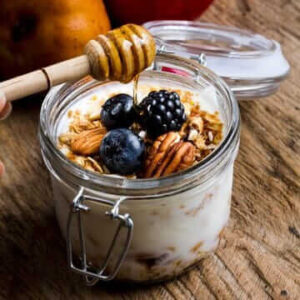 Greek Yogurt with Mixed Nuts and a Drizzle of Honey Recipe
Savor the classic combination of Greek yogurt with honey, a match made in culinary heaven. Find the best ways to enjoy this duo.
Equipment
Bowl

Spoon

Drizzling utensil (for honey)
Ingredients
1

cup

Greek yogurt

1/4

cup

Mixed nuts

(such as almonds, walnuts, and pecans)

1

tbsp

Honey (adjust to taste)

Fresh berries or sliced fruit for garnish(optional)
Instructions
Assemble Your Ingredients: Gather all the ingredients to smooth the preparation process.

Spoon Greek Yogurt: Take a serving bowl or dish and spoon 1/2 cup of Greek yogurt into it, spreading it evenly.

Prepare the Nut Mix: Roughly chop the mixed nuts if they need to be in bite-sized pieces.

Top with Mixed Nuts: Sprinkle the chopped mixed nuts evenly over the Greek yogurt.

Drizzle with Honey: Finish by drizzling 1-2 tablespoons of honey (adjust to your desired level of sweetness) over the yogurt and berry parfait.

Serve and Enjoy: Your honey greek yogurt with Mixed Nuts and a Drizzle of Honey is ready to be enjoyed. Grab a spoon and savor the creamy yogurt, crunchy nuts, and sweet honey in every bite.
Notes
Tip: Avoid using too much yogurt and honey, which can make the dish overly sweet. Start with a smaller amount, taste, and add more if needed to achieve the desired level of sweetness.
Is Yogurt Good for Breakfast?
Yes, yogurt is an excellent choice for breakfast. It is rich in protein, probiotics (beneficial bacteria for gut health), and essential nutrients like calcium and vitamin D. Best plain greek yogurt, in particular, is thicker and creamier than regular yogurt, making it a satisfying and filling option to kickstart your day.
Greek yogurt toppings with nuts and honey adds a dose of healthy fats, fiber, and natural sweetness, making it a balanced and nutritious breakfast choice.
What to Eat with Greek Yogurt?
Greek yogurt is a versatile ingredient that can be paired with various toppings and mix-ins. Besides mixed nuts and honey, you can enjoy it with fresh fruit, granola, chia seeds, flaxseeds, shredded coconut, or a drizzle of nut butter. These combinations enhance the flavor and provide a range of textures and additional nutrients, making yogurt with honey a canvas for creative and nutritious breakfast or snack options.