A Mediterranean Omelette with Spinach, Feta, and Tomatoes is a delightful fusion of flavors that transports your taste buds to the sunny shores of the Mediterranean. Let's start mediterranean diet low carb recipes.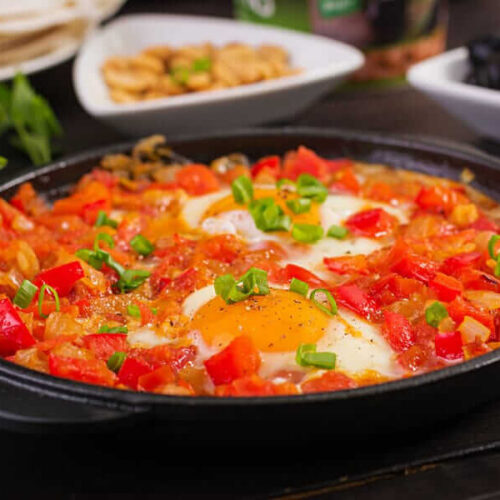 Mediterranean Omelette with Feta Cheese Recipe
Whip up a Mediterranean omelette to transport your taste buds to the sunny shores of the Mediterranean. Try our recipe for a true culinary journey!
Equipment
Baking sheet

Saucepan with lid

Mixing bowl

Fork

Serving bowls

Knife
Ingredients
3

Large Eggs

1

cup

Fresh spinach leaves

1/4

cup

Crumbled feta cheese

1/4

cup

Cherry tomatoes, halved

1

tbsp

Extra-virgin olive oil

Dried oregano

(optional, for extra Mediterranean flavor)

Salt and freshly ground black pepper to taste
Instructions
Prep the Ingredients: Wash the spinach leaves thoroughly and pat them dry with paper towels. Slice the cherry tomatoes in half, and crumble the feta cheese if it's not pre-crumbled.

Whisk the Eggs: Crack the eggs into a bowl and whisk them until well beaten. Season with a pinch of salt, freshly ground black pepper, and a sprinkle of dried oregano if desired. Whisk again to combine.

Sauté the Vegetables: Heat the olive oil in a non-stick skillet over medium heat. Add the fresh spinach leaves and cherry tomatoes to the skillet. Sauté them for 2-3 minutes until the spinach wilts slightly and the tomatoes soften.

Pour in the Eggs: Once the vegetables are ready, pour the beaten eggs evenly over them. Allow the eggs to cook undisturbed for a minute or so until the edges begin to set.

Add Feta Cheese: Sprinkle the crumbled feta cheese evenly across the omelette.

Fold and Finish: Gently lift one side of the feta and tomato omelette with a spatula and fold it over the other, creating a half-moon shape. Continue to cook for another 1-2 minutes or until the eggs are fully set and the cheese has melted.

Serve: This feta omelette recipe typically serves 2-4 people, depending on their appetites and whether it's served as a main dish or a side. Carefully slide the omelette onto a plate and season with additional salt, pepper, and a drizzle of olive oil if desired. Serve hot.
Notes
Enjoy your Mediterranean omelette with spinach, feta, and tomatoes as a nutritious and flavorful mediterranean food breakfast. You can pair it with a side salad, mediterranean egg recipes, whole-grain toast, or a slice of crusty bread for a complete and satisfying meal that's both delicious and aligned with the wholesome principles of the Mediterranean diet.
What Goes in an Omelette?
An omelette is a versatile and delicious dish that can be customized to suit various tastes and preferences. At its core, an omelette typically consists of beaten eggs, which serve as the foundation of this culinary delight. To create a basic omelette, you'll need eggs, a pinch of salt, and a bit of butter or oil for cooking.
However, what goes into an omelette can vary greatly depending on your culinary creativity. Common additions include diced vegetables like bell peppers, onions, tomatoes, shredded cheese, herbs like chives or parsley, and diced meats such as ham or bacon.
The beauty of an omelette lies in its adaptability, making it a canvas for personal expression in the kitchen, allowing you to experiment with various ingredients and flavors to create a perfect, customized breakfast or brunch dish.
What is a Mediterranean Diet Breakfast?
A Mediterranean breakfast typically consists of whole, unprocessed foods emphasizing fresh vegetables, fruits, whole grains, and healthy fats. It often includes olive oil, nuts, seeds, and lean proteins.
The Mediterranean omelette perfectly fits this breakfast profile, combining protein from eggs and cheese, fiber from vegetables, and heart-healthy fats from olive oil. It's a satisfying and nutritious way to kickstart your day while staying true to the principles of this wholesome eating style.
To prepare your Mediterranean omelette, whisk the eggs in a bowl, add olive oil to a non-stick skillet, and sauté the spinach and tomatoes until slightly wilted. Pour the beaten eggs, sprinkle the feta cheese, and cook until the omelette is set. Fold it over and serve with a side of whole-grain toast or a fresh salad for a complete Mediterranean breakfast that's delicious and a great start to a healthy day.