Marinated Brussel Sprouts with Lemon Recipe
Indulge in the refreshing tang of Marinated Brussel Sprouts with Lemon, a delightful culinary creation that brings together the earthy essence of Brussels lemon sprouts and the vibrant zest of lemon. This recipe combines these ingredients into a harmonious symphony of flavors that will elevate your dining experience.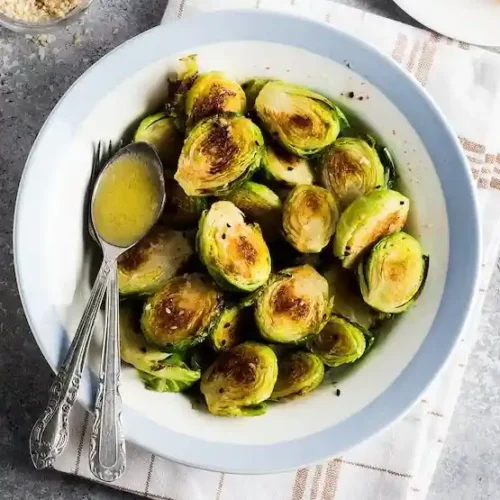 Lemon Magic: Transforming Brussels Sprouts into Citrusy Masterpieces
Delve into a world of taste with Brussels sprouts infused with the bright essence of lemon. The citrusy notes beautifully complement the greens, transforming your dish into a delectable masterpiece.
Equipment
Stock Pot

Large Bowl

Knife

Colander
Ingredients
1

Pound

Fresh Brussels sprouts

1/4

Cup

Olive oil

2

tbsp

Lemon juice

1

teaspoon

Lemon zest

2

Cloves

Garlic minced

1

teaspoon

Honey or maple syrup

Salt and pepper to taste

Fresh herbs (such as thyme, rosemary, or parsley)

Chopped (optional)
Instructions
Washing the Brussels Sprouts: Wash the Brussels sprouts thoroughly and trim the stem ends. Remove any damaged outer leaves. If they are larger, cut them in half.

Boil Brussels Sprouts: Fill a pot with water and bring it to a boil. Add a pinch of salt. Place the Brussels sprouts in the boiling water for 2-3 minutes. Drain and transfer them to a bowl of ice water to cool down. Drain again and pat them dry.

Mix all Ingredients: Whisk together olive oil, lemon juice, lemon zest, minced garlic, honey or maple syrup, salt, and pepper in a bowl. Adjust the seasonings according to your taste preferences. You can also add chopped fresh herbs for added flavor.

Marinate the lemon garlic Brussel Sprouts:  Place the blanched and dried Brussels sprouts in a resealable plastic bag or a container with a lid. Pour the marinade over them, ensuring they are well-coated. Seal the bag or container gently, shake or toss to distribute the marinade evenly.

Marinating Time: Refrigerate the marinated Brussels sprouts for at least 2 hours, preferably overnight. This allows the flavors to meld and infuse into the Brussels sprouts.

Smoke the Brussels Sprouts: To smoke, Spread the marinated lemon garlic Brussel Sprouts on a baking sheet lined with parchment paper. Smoke for about 20-25 minutes until tender and slightly caramelized.

Serve: If desired, once smoked or brought to room temperature, Serve Brussel Sprouts with creamy lemon sauce and fresh herbs. Serve as a delightful and tangy dish.